BK-Works Change Converter
This started off as a bored-me project.
It allows you to enter the final cost of an order, and the amount the customer paid.
Afterwards, it determines how much the customer is owed, and then shows how many of each bill and coin the customer should recieve back.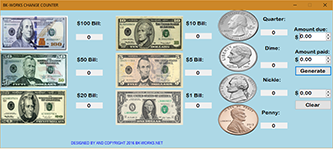 Shown above is the main program window.
To download this program, please visit our Download Center.